Katun North America Introduces Wide Format Ink Line
Over 100 Part Numbers Introduced for a Range of Wide Format Printers.
MINNEAPOLIS – (January 2021) – Katun Corporation, one of the world's leading suppliers to the office equipment industry, is pleased to announce the introduction of a new line of high-quality, affordable inks for wide format printers.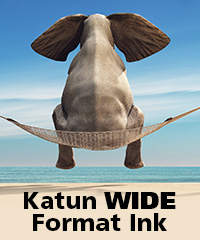 These Katun wide format inks cover a broad range of popular HP and Epson wide format printers – over 15 model families and 100 part numbers are included.
Katun's wide format inks provide OEM-equivalent image quality, vibrant colors and are 100% compatible with OEM inks. They are "flush-free" – so no flushing of OEM ink is needed. When you install Katun wide format inks there is no need to make additional printer color adjustments either.
Water and fade resistant, Katun wide format inks provide consistent performance and excellent adhesion. Best of all, you will receive significant cost savings vs. OEM inks, enabling you to immediately increase the profitability of your fleet of wide format printers.
These Katun products may be ordered by phone, fax or email, or via the Katun Online Catalog – the one-stop resource that allows registered customers to locate and order thousands of Katun products while viewing real-time information about their orders and accounts. Customers can access the Katun Online Catalog, or find Katun customer service contact information, at www.katun.com.
About Katun Corporation
Headquartered in Minneapolis, Katun Corporation is one of the world's leading suppliers of OEM-compatible imaging supplies, photoreceptors, fuser rollers, parts and other products and services for printers, copiers and MFPs. Katun has over 42 years' experience in the imaging industry and serves approximately 10,000 dealer and distributor customers worldwide. For more information, visit Katun online at www.katun.com.