Katun North America Introduces an OPC Drum Kit, Parts and Remanufactured HP Printers.
Katun is Here to Help with Quality and Cost Savings to Improve Your Cash Flow.
MINNEAPOLIS – (May 2020) – Katun Corporation, one of the world's leading suppliers to the office equipment industry, is pleased to announce the introduction of several high-quality products.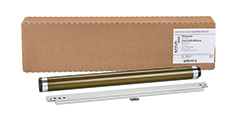 The Katun Access™ OPC drum kit for use in Canon imageRUNNER Advance 4525/4535/4545/4551-series applications provides dealers with significant cost-per-copy savings at a time when cash flow is paramount. This reliable product has been tested and approved in Katun's Research and Development laboratory in Minneapolis, Minnesota, to ensure it meets Katun's high standards.
Ricoh dealers will be happy to know that Katun has introduced several parts, including a transfer belt and a drum charge roller for use in multiple OEM and PLD applications, including Ricoh Aficio 1050/550/650/850-series machines.
Katun has also added several new HP models to its line of Katun Certified remanufactured printers, including LJ Enterprise Flow M 630 and LJ Enterprise M 604 DN. These low cost, high-quality remanufactured printers connect to your network and MPS programs straight out of the box and are remanufactured in the USA. Save money and benefit the environment by purchasing a Katun Certified remanufactured printer.
Katun products may be ordered by phone, fax or email, or via the Katun Online Catalog – the one-stop Internet resource that allows registered customers to locate and order thousands of Katun products while viewing real-time information about their orders and accounts. Customers can access the Katun Online Catalog, or find Katun customer service contact information, at www.katun.com.
About Katun Corporation
Headquartered in Minneapolis, Katun Corporation is one of the world's leading suppliers of OEM-compatible imaging supplies, photoreceptors, fuser rollers, parts and other products and services for printers, copiers and MFPs. Katun has over 40 years' experience in the imaging industry and serves approximately 10,000 dealer and distributor customers worldwide. For more information, visit Katun online at www.katun.com.