Katun North America Introduces Drums And Drum Units
New Products Available for use in Sharp and Konica Minolta Applications.
MINNEAPOLIS – (June 2021) – Katun Corporation, one of the world's leading suppliers to the office equipment industry, is pleased to announce the introduction of two high-quality Katun Performance™ drum products.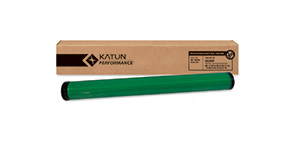 The Katun Performance™ OPC Drum for use in Sharp MX-B355W/B455W-series applications is now available for purchase. This OPC drum provides OEM-equivalent performance and significant cost savings versus the OEM product for these machines. You do not need to compromise quality either – these drums have been manufactured in facilities that have earned the ISO 9001:2015 quality management system certificate and the ISO 14001:2015 environmental management system certificate.
Katun has also introduced new-build black and color drum units for use in Konica Minolta Bizhub 450i/C450i-series machines. These new-build drum units will enable dealers to realize significant cost-per-page savings and increased profitability on these applications. These products have been thoroughly tested to ensure they meet Katun's very high quality standards.
These Katun products, along with many other new products, may be ordered by phone, fax or email, or via the Katun Online Catalog – the one-stop resource that allows registered customers to locate and order thousands of Katun products while viewing real-time information about their orders and accounts. Customers can access the Katun Online Catalog, or find Katun customer service contact information, at www.katun.com.
About Katun Corporation
Headquartered in Minneapolis, Katun Corporation is one of the world's leading suppliers of OEM-compatible imaging supplies, photoreceptors, fuser rollers, parts and other products and services for printers, copiers and MFPs. Katun has over 42 years' experience in the imaging industry and serves approximately 10,000 dealer and distributor customers worldwide. For more information, visit Katun online at www.katun.com.